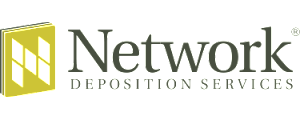 Business Development Manager
Network Deposition Services is a team of professionals dedicated to providing court reporting, video, interpreting and trial presentation services.
Our mission is to give California's attorneys and law firms the kind of personalized court reporting services they deserve, with the rare combination of a hands-on personal service and the timeliness of a world-class court reporting company.
Why Choose Network Deposition Services?
Our highly personalized client relationships, combined with the fastest and most accurate court reporters in the industry distinguishes us from our competition.
We rely on listening and thinking more than presuming and on solutions more than products. That's why our team of experienced professionals are committed to providing the highest levels of service. We are people who understand your industry nearly as well as you do – so you can spend more time focusing on your clients and less time explaining your needs to your court reporting firm.
Network is the frontrunner in utilizing technology for legal solutions, insuring an easy, secure flow of the deposition process.
Whether in the office or on the go, you can schedule your next deposition, manage your deposition calendar, or download your desired transcripts, via your desktop or mobile device. Our nationwide network of court reporters, legal videographers, interpreters, dedicated case managers, and state-of-the-art deposition suites is available to you when you need it.
Learn More about MyDepo
From our court reporters and videographers to our client-dedicated litigation
support managers, our team is the most knowledgeable and experienced in the industry.
Court Reporting
Network Deposition Services has built a reputation of excellence by delivering the highest caliber of court reporting services for depositions, arbitrations, trials and hearings.
Case Management
With one of our litigation support managers on your team, you gain a true professional partner that will stretch your resources by handling – at no additional cost – all deposition logistics for your entire case.
Trial Reporting
Network provides court reporters for trials. We have over 500 seasoned trial reporters available for your trial or hearing.
Legal Videography
Network Deposition Services offers professional legal videography services, allowing you to capture deposition testimony, day-in-the-life documentaries, visual evidence, product testing and site inspections.
Realtime Transcription
We offer over 1000 CLRs (Certified LiveNote Reporters) nationwide who are able to connect any on-site attendee to a realtime display of the deposition testimony.
Trial Presentation
Network Deposition Services offers a myriad of trial preparation, presentation and support services customized to fit your needs. We utilize both traditional and cutting edge electronic presentation technologies to persuasively and masterfully present the evidence in your case.
Interpreting
Network Deposition Services provides interpreting services in over 240 languages and dialects. Our interpreters are experienced in all types of proceedings
Translation
Network excels in certified document and multimedia translation services. Our translators are professionals selected for their linguistic skills and their expertise in specialized legal, medical and financial vocabulary.
Video Conferencing
We provide first class video conferencing services to enable remote proceedings with confidence and ease.